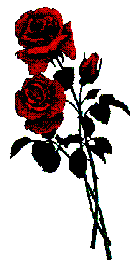 IN MEMORY
Some People come into our lives and quickly go.
Some stay for a while and leave footprints on our hearts



And, we are never, ever the same . . . .

Mother of Doug Caywood, Class of 1971
Donna Clites Kelso, Class of 1950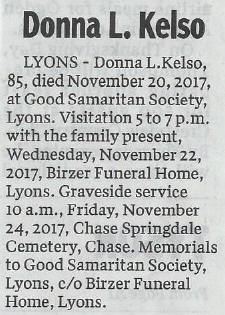 Husband of Ann Starnes Hale, Class of 1975
This was just sent to me--
Donna Leah (Drury) Young, Class of 1946
Donna Leah (Drury) Young (Chase HS Class of 1946 [KS]) passed away Thursday evening, September 29, 2016, at her son's home in Phoenix, Arizona. She was 88. Her cause of death was congestive heart failure. Born February 10, 1928, in Wilson Township, Rice County, Kansas, at her family's farm about one mile south of Lodiana Cemetery, Donna was the third of three sisters born to John Samuel and Frances Edna (Hutchens) Drury. Her childhood was spent at various farms in Rice County attending elementary schools such as Banner, Wide-Awake, and Pleasant View rural schools; finally graduating high school at Chase in 1946. Donna married the love of her life, Merle Calvin Young, in March 1945, three days before he was shipped off to World War II. After her graduation, she moved in with her husband and spent the early years of her marriage in Kansas. They had one son, Dennis, born in 1948. Over the years, the family lived in Kansas, Oklahoma, Arkansas, North Dakota, Ohio, Florida, back to Arkansas, and then Hawaii until returning to Lyons in 1989. There, Merle and Donna remained until Merle's Alzheimer's Disease forced the family to retire to their son's home in Arizona in 2009. Donna was preceded in death by her parents John (May 1964) and Frances (October 1985). Her oldest sister Ila Fern passed in 1992 and her older sister Betty passed in 2014. Her husband, Merle, passed away in March 2015, only three days short of the couple's 70th wedding anniversary. Donna is survived by her son, Dennis, of Phoenix, along with two nieces and four nephews. Donna's life was commemorated November 9, 2016, at the Chase, Kansas, Senior Center. Internment was beside her husband, Merle, at the Salem-Friedhof Cemetery just south of Bushton, KS.
Tammy Clark Linke, Class of 1984
Beverly Hager Robinson, Class of 1952
Janet Melcher Branscom, Class of 1970
Jerry Linke, Class of 1957
Donald Sharpe, Class of 1940
Donald E. Sharpe, 94, passed away August 3, 2017. Born January 31, 1923 in Chase, KS at the family farmhouse. Don, born to Roy and Viola Sharpe, was the second youngest in a family of seven siblings, five brothers and one sister. Growing up in Chase, Don enjoyed the farm life while playing all sports including football and basketball. After high school, Don enrolled at Fort Hays State University (Go Tigers!). Don was college sophomore when WWII broke out. Interrupting his college education, Don enlisted in the Navy serving just over three years on the USS Caribou. Don slept every single night of those three years on the Caribou, a supply ship serving in the Pacific mainly around the Philippine Islands. On the return trip home after the war in the Pacific ended, Don stayed on board so he could sail through the Panama Canal. A voyage he remembered fondly. Upon his return, Don re-enrolled back at Fort Hays State University where he joined the Phi Sigma Epsilon fraternity. After completing all his courses Don graduated in 1948 with a Business Degree. He not only left Fort Hays with a diploma but also with the love of his life, Marion Witt, a Fort Hays coed. Don and Marion married in 1948. Starting their new life together in Lyons, KS, Don started working in the Oil and Gas industry as a Purchasing Agent, a career that lasted him until he retired in 1985. The oil industry relocated Don and Marion to 8 different cities along the way including stops in Kansas, Colorado, Utah, Missouri and finally Oklahoma. Along this journey they were blessed with three children. Duane, was first then a daughter Janet and then finally another daughter Karen. They all finally settled in Tulsa OK in 1968 where they have been ever since. All three kids graduated high school in Tulsa. Education was important to Don and Marion and they made sure all three graduated from Oklahoma State University. One of Donís favorite activities was being a member of the Masonic Lodge along with all five of his brothers. Don was a Mason and then a Shriner for most of his adult life. Don enjoyed sports especially college basketball and enjoyed watching Kansas, Oklahoma State and ORU games. Don and Marion had ORU season tickets for many years and even traveled to Alaska with the team for a tournament. Don and Marion also traveled extensively to many exotic places including Greece, Hawaii, Alaska, Israel, and Europe. On one of their last trips they went to Australia to visit their daughter Karen and spent time in Melbourne, Sydney and even snorkeled the Great Barrier Reef at 70 years old! In 2010, Don and Marion retired to Zarrow Pointe Retirement Community in south Tulsa where they made many new friends. Don is survived by his wife, Marion, of 67 years, his son Duane and wife Jackie of Altadena CA, daughter Janet Winslow and husband Jim of Branson MO, and daughter Karen Davis and husband Jeff of Tulsa OK. He is also survived by five grandchildren, Andrew Winslow and wife Whitney, Garrett Winslow, Kelsey Davis, Trent Davis and Ryan Sharpe and two great grandchildren, Lincoln and Claire Winslow. A memorial service including military honor guard will be held at Kirk of the Hills Presbyterian Church in south Tulsa. In lieu of flowers, a donation in his name can be made to Meals on Wheels or a charity of your choice.
G. Douglas McConnell, Class of 1956
G. Douglas McConnell, 78, passed away Monday, May 22, 2017 in Fort Wayne. Doug graduated from Chase High School in Chase, KS, then completed his Bachelor's degree in Electrical Engineering from the University of Evansville. Later he completed his Master's degree in Business Administration from Indiana University. Doug began his career as an electrical engineer with Magnavox where he worked on aeronautical radar and sonar equipment. He later transitioned into a sales career of integrated circuits and components. He was a member of Salem United Church of Christ, and served as President of Consistory at Salem and Grace St. John's UCC. Doug was also a President of the Basketball Booster Club at Leo High School, a member of the Hoosier Vintage Thunderbird Club, and an active participant in the Grabill Fair. Surviving are his children, Michael (Debbie) McConnell of Spencerville, IN, Daryl (Mindy) McConnell of Auburn, IN, and Dianne (Jack) Haworth of Fishers, IN; 5 grandchildren; 2 brothers and 1 sister. Doug was preceded in death by wife, Karen McConnell; parents, George and Elva McConnell; 1 brother and 1 sister. Service is 10:00 am, Saturday, May 27, 2017 at Salem United Church of Christ, 2401 Lake Ave, with calling one hour prior. Calling also at D.O. McComb & Sons Pine Valley Park Funeral Home, 1320 East Dupont Rd on Friday, May 26, 2017 from 4:00 pm - 8:00 pm. Burial in Leo Memorial Cemetery, Leo, Indiana. Memorials may be made to the Salem United Church of Christ. To sign the online guest book, go to www.domccombandsons.com.
Richard Walker, Class of 1952
Richard Ray Walker, born March 19, 1934 to Raymond H. and Margaret Walker in Chase, Kansas, peacefully stepped into the arms of Jesus July 8, 2017 at the age of 83. Richard is survived by his wife of 63 years, Shirley Ann Shaffer Walker. Richard and Shirley had 4 children, 3 of which are still living. He is predeceased by their oldest son, Timothy Brian Walker, and is survived by Jeanne (Tim) Mahoney of Grapevine; Lynette (Peter) Bowen of Plainview; and Patrick (Melanie) Walker of Houston. His grand children and great grandchildren include Sarah (Andrew) Bentley of McKinney; Valerie (Casey) Harris of Grand Prairie; David Walker of Grand Prairie; Kevin Walker of Grand Prairie; Emily (Arthur) Noyce and children Abigail, Luke, and Ian of Fort Worth; Melanie Mahoney of Cape Cod, MA; Andrew Mahoney of Fort Worth; Ryan Bowen of Plainview; Jeremy Bowen of Plainview; Lydia Walker of Houston; and Daniel Walker of Houston. He is also survived by his brother, Larry (Gilda) Walker of Valley View, Kansas. Richardís greatest joy in life was being a family man and he was thankful for each of these blessings in his life. Richard was raised and attended school at Chase, Kansas, graduating in 1952. After graduating from high school, he entered the U. S. Air Force where he served until 1956. He married his high school sweetheart, Shirley Ann Shaffer, on May 16, 1954 in Wichita, Kansas. In 1957 Richard and Shirley moved to Texas, where he attended Arlington State University (now UTA) and earned a B.S. in Physics. He worked as an Electrical Engineer for General Dynamics and LTV (Vought) Aircraft, and retired from the Fort Worth Convention Center. Richardís faith in Jesus Christ as his Lord and Savior was an important part of his life. He had a passion for Godís Word, the Bible and wanted others to know and have this faith, too. He was a member of Shady Oaks Baptist Church in Hurst. From his teenage years through adulthood, Richard participated in various church activities including leading singing at several small churches they attended, opening their home to youth and singles/young adult groups when their children were living at home, and directing a Sunday School class for those who donít like Sunday School. He dearly loved teaching the little childrenís Sunday School class, loving on them and helping them know that Jesus loves them, too. He also loved singing hymns and worship songs, especially the happy, peppy tunes. Special interests and hobbies included fishing, hunting, and camping and his general love of the outdoors. He especially enjoyed family summer vacations in the mountains with cool weather and trout fishing and would begin planning each one months in advance. He enjoyed being a Boy Scout leader and shared his love of outdoors with the boys in his troops. Richard also loved flying airplanes and earned his private pilot license and even owned his own airplane, a Luscombe, at one point. The viewing and funeral service for Richard will be held this Thursday, July 13, at Foust & Sons Funeral Home in Grapevine, Texas. Public viewing will be at 10:00 a.m. and the funeral service will begin at 10:30 a.m. with graveside service following. The following photos were on the obituary site and thought you might like to see them.
Dick was born March 4, 1926 in El Dorado, Kansas, and died June 20, 2017, in McMinnville, Oregon. He was preceded in death by his parents, Virgil and Vella Morse, brother Robert, and former wife Grace (Jones) Morse. He is survived by sons Mark (Bonnie) Morse, Russell Morse, and sister Marge Schoenhofer. Arrangements are being handled by Macy & Son. At Dickís request, there will be no service. His wishes were that his ashes be scattered at sea.
Norma Lee McPherson Chambers, Class of 1952
Norma Lee Chambers, 83, of Monett went to be with her Lord in Heaven on Monday May 29, 2017 while staying at Lacoba Homes in Monett. She was born on June 7, 1933 in Three Sands, Oklahoma; the daughter of the late Walter R and Edith (Davis) McPherson. She was united in marriage to Don Hall; to this union she was blessed with three children, later she was united in marriage to Jay Chambers, he preceded her in death on October 14, 2010. She was retired from Tysonís in Monett, Missouri. Norma is survived by one son: Galen Hall and his wife Mary of Monett; two daughters: Rowena Spears and her husband Chuck of Monett and Regina Streeter and her husband John of Stark City, Missouri; one step-son: Richard Chambers of Mt. Vernon; two step-daughters: Janet Thompson of Springfield and Denise Richards of Cape Fair, Missouri; one sister: Helen Hickle of Ellinwood, Kansas; five grandchildren; thirteen great-grandchildren and one great-great-grandson. She was preceded in death by her parents Walter and Edith, first husband Don on February 2, 2002, second husband Jay, one granddaughter Dawn Spears and one great-grandson Colton. Memorial service arrangements are pending at this time and will be announced upon completion. Arrangements have been entrusted to the care of the Bennett-Wormington Funeral Home in Monett, Missouri.
Betty Casey Collins, Class of 1957
Betty Lou Collins, 80, of Plainville, Kansas, died Saturday, June 3, 2017, at Red Bud Village in Plainville. Betty was born February 10, 1937, in Pawhuska, Oklahoma the daughter of Sam and Stella Snook Casey. She was a long time Lyons and Plainville resident. Betty attended Chase High School. She was a homemaker. Betty was a member of the Assembly of God Church in Lyons and Plainville. She was also a member of the Pink Ladies at Hadley Regional Medical Center in Hays. On February 14, 1981, Betty was united in marriage with John B. Collins in Ellis, Kansas. He preceded in her death on March 20, 2006. She is also preceded in death by her parents; two daughters, Debbie Tolliver and Janie Sneath; brother, Sam Casey; four sisters, Wanda Blankenship, Dora Holliday, Joyce Brady, and Sharon Stahl. Betty is survived by son, Gene Sneath, Plainville; daughter, Sherry and Dan Clopine, Springfield, Missouri; brother, Lawrence Casey, Hutchinson; four sisters, Mary Brady, Chase, Elizabeth Rinehart, Miami, Oklahoma, Karen Saunders, Plainville, and Jeanie May, McPherson; four grandchildren, Ashleigh Meyer, Matt Clopine, Sam Sneath, Sara Sneath; and seven great grandchildren. Visitation will be from 9:00 to 10:00 A.M., Tuesday, June 6, 2017 at Birzer Funeral Home, Lyons. Graveside funeral services will be 10:30 A.M., Tuesday, June 6, 2017 at Lyons Municipal Cemetery. Memorials can be made to Red Bud Village, Plainville in care of Birzer Funeral Home, Lyons.
For those of you who might remember him~~
Husband of Alice Hoover Cassidy, Class of 1958
Clarence E. Cassidy, 88, passed away Sunday, April 16, 2017. Memorial Service 1:00 p.m., Friday, April 21, 2017, at Catholic Care Center, 6550 E. 45th St. N., Bel Aire, KS. Clarence was a loving father and husband, and a devout Catholic. Preceded in death by his mother, Mary Ann Cassidy and 3 brothers. He is survived by wife, Celia; children Sherry (Mike) Henning, Carol (Ephrom) Marks, Daniel (Nikole) Cassidy; 8 grandchildren, and 1 great-grandchild. In lieu of flowers, a memorial has been established with Catholic Care Center.
Richard J. Smith Class of 1955
Richard was born on November 25, 1936 and passed away on Saturday, April 1, 2017.Richard was a resident of Sulphur Springs, Texas at the time of his passing. Funeral services will be held at 2:00 P.M. on Wednesday April 5 2017 at Murray-Orwosky Funeral Chapel. Interment with military honors will follow at DFW National Cemetery with Cody Poe Russ Butler Nick Poe Trey Poe Richie Dalby Jr. and Sean Stanton serving as pallbearers. Visitation will be held one hour prior to service
Dennis D. Messick, 66, passed away at Diversicare of Hutchinson on April 11th, 2017. Born on October 22, 1950 in Sterling, KS to Orie & Mary Lois (Ruddell) Messick. Dennis was a longtime Hutchinson resident formerly of Chase, Lyons, & Katy, TX. He graduated from Emporia State and was a member of Sigma Phi Epsilon Fraternity. He married Kristin Stockstill of Geneseo on Dec. 23, 1978 in Geneseo. Mr. Messick worked as a teacher, realtor & furniture retailer. He taught middle school math and coached at Emporia and previously worked as a pipleline engineer for Conoco in Katy, TX. In addition he was owner of Kimple Furniture in Lyons. Later he worked as a realtor at Coldwell-Banker in Hutchinson. Mr. Messick conducted continuing education classes in real estate throughout the Midwest and also taught real estate classes at Hutchinson Community College. He was also an avid golfer. Survivors include, Son, Price Messick, Astoria, NY; Brother, Larry Messick, Boca Raton, FL; and sister, Linda Kimple, Ellinwood, KS. Memorial service will be announced at a later date. Memorials are suggested to Boys & Girls Club of Hutchinson in care of Minnis Chapel, PO Box 246, Ellinwood, KS 67526
Kenneth J. Link, 88, died April 9, 2017, at Clara Barton Hospital, Hoisington. He was born July 4, 1928, at Chase, the son of Louis and Bertha (Gregory) Link. He married Shirley Jean Wallace March 27, 1951, at Holy Name Catholic Church, Bushton. A Great Bend resident since 1960 coming from Chase, Mr. Link was employed by Skelly Oil Company, and previously owned and operated Chase Tank Service, Chase Well Service and Strata Drilling. He was a member of Prince of Peace Parish at St. Rose of Lima Catholic Church, Knights of Columbus Council #862, AF & AM Lodge #15, Isis Shrine, York Rite, and Kansas Independent Oil and Gas Association (KIOGA). Mr. Link was a past president of Great Bend Petroleum Club and a past member of Moose Lodge of Hutchinson. Survivors include his wife Shirley Link, of the home; two daughters, Linda Meyeres and her husband Jim of Chase, and Denise Barbour and her husband Jack of San Angelo, Texas; one daughter-in-law, Janis Link of Great Bend; one son-in-law, Lynn Bownes of Great Bend; one brother, Vincent Link of Aurora; seven grandchildren, Mike Link and his wife Kristi, Steven Link, Ryan Bownes and his wife Stacey, Derek Bownes and his wife Ashley, Kalesha Schartz and her husband Matt, Jason Meyeres and his wife Darci and Jamee Kizzar and her husband Blake; thirteen great-grandchildren, Mikayla Bownes, Brenna Bownes, Emeri Bownes, Mae Lynn Schartz, Jersey Meyeres, Morgyn Meyeres, Cordell Moore, Brayden Moore, Allison Link, Emma Link, Duell Kizzar, Lathem Kizzar and Blakelinn Kizzar; and a host of nieces and nephews. He was preceded in death by two sons, Mark Allen Link and Kent Eugene Link; one daughter, Rita Jo Bownes; five brothers, Gregory Link, Russell Link, Norbert Link, Raymond Link and Clifford Link, one sister, Theresa Owens; and two grandchildren, Nicole Meyeres, and Curtis Meyeres. Vigil Service with Knights of Columbus Rosary will be at 7 p.m., Monday, April 17, 2017, at Bryant Funeral Home. Mass of Christian Burial will be at 10:30 a.m., Tuesday, April 18, 2017, at St. Rose of Lima Catholic Church in Great Bend with Father Ted Stoecklein celebrating. Burial will be in Great Bend Cemetery, with graveside rites by Masonic Lodge #15. Friends may call from 9 a.m. to 9 p.m., Monday, April 17, 2017, at Bryant Funeral Home. Memorials have been established with Holy Family School Endowment or Sunflower Shrine Club or Barton County Relay for Life, in care of Bryant Funeral Home.
After the newsletter had gone out we received word that Jerry Miller, Class of 1961 had passed away
Jerry R. Miller was born September 13, 1942 in Lyons, Kansas, died August 3, 2015. The son of Lansing & Frances (Wheler) Miller. He served his country in the United States Army during the Korean War. On November 7, 1964 Jerry married Linda F. Truhlar. She passed away February 25, 1997. Jerry then married Ruth Parks on February 14, 2006 in Abilene. She survives of the home. He is also survived by his sons Sean D. & his wife Julie Miller of Copperas Grove, Texas, Randy E. & his wife Becky Miller of Midland, Texas; four grandchildren & two great grandchildren. Jerry was preceded in death by his first wife Becky, Brother Jim, and his parents. Jerryís family has selected cremation. A memorial service will be at a later date. Memorial contributions may be made to the Veterans of Foreign Wars and may be sent in care of the Martin-Becker Carlson Funeral Home414, NW 3rd, Abilene, Kansas 67410. Condolences may be sent to the family at www.martinbeckecarlson.com.
Earl "Bill" Cooper, Class of 1947
After the newsletter had gone out we received word that Rex R. Burden had passed away, Class of 1939
Rex R. Burden, Class of 1939
Rex R. Burden, Garden City, Kan., passed away Jan. 8, 2016. Rex was born May 27, 1921, in Chase, Kan. He graduated from K-State in Dec. of 1942 with a degree in business. He enlisted in the Army in January 1943. He was commissioned as a 2nd Lieutenant serving in the costal artillery. Rex applied for pilot training and graduated in the class of 1944E. He was shipped out to England in November of that year. His first mission was flying the new P51 on Nov. 26, 1944, the Sunday after Thanksgiving. He flew a total of 55 missions. His last mission on May 2, 1945, escorting a B-17 bomber dropping leaflets, was just six days before VE-Day. Some of his decorations and citations included the Air Medal w/5 Oak Leaf Clusters, the Distinguished Flying Cross and the WWII Victory Medal. Back in the States, Rex did some teaching in Hutchinson. He married Mary Louise Carl on Jan. 29, 1950, and moved to Garden City where he became a very successful farmer. Rex and Mary loved to travel and traveled all over the world. For over 20 years, they wintered for two months in Hawaii. Rex and Mary moved to Overland Park in 2008 to be closer to family. He was preceded in death by his parents; his wife, Mary; and daughter, Betsy. He is survived by son-in-law, Tom; grandchildren, Meghan (Nick) and Brandon and his great grandchildren, Madison, Jackson and Brooklyn. Memorial contributions may be made to the Garden City Zoo or the Wounded Warrior Project. Johnson County Funeral Chapel, 913-451-1860, www.johnsoncountychapel.com Published in Kansas City Star on Jan. 13, 2016
Carolyn Peterson Piper, Class of 1980
Carolyn Piper, 53, of Scribner died Wednesday May 27, 2015, peacefully at her home surrounded by family after a battle with cancer. Carolyn was born Dec. 31, 1961, in Sterling, Kan., to Marion and Janice ďFooteĒ Peterson. She grew up in Chase, Kan., and graduated from Chase High School in 1980. She then received her degree from Fort Hays State College and began teaching in Harrison where she met Marvin Piper. Carolyn started teaching at Scribner-Snyder High School in 1989 and in July of 1990 married Marvin. She then taught at Blair, Fremont and was currently on staff at Wisner-Pilger High School. In her career Carolyn coached softball, volleyball, basketball and track. Carolyn was a member of St. Lawrence Catholic Church in Scribner. Carolyn touched the lives of many people with her smile and generosity, and maintained her trademark sense of humor all the way to the end. Survivors include: her husband, Marvin of Scribner; daughters, Kelsey, Kayla and Kristin of Scribner; special family member, Laura (Ted) Paasch of Omaha; sister, Cathy (Ben) Delgadillo of St. John, Kan.; brother, Steven (Wiletta) Peterson of Chase, Kan.; sisters-in-law, Kathryn (Ray) Dieckmann of Lusk, Wyo., Julia Piper of Harrison, Rosa Roberts of Crawford and Cheryl (Craig) Scherbarth of Elsie; brother-in-law, Franklin Piper of Harrison; nieces, nephews, cousins, aunts, uncles and many friends. Carolyn was preceded in death by her parents. The funeral Mass is 10:30 a.m. Saturday at St. Lawrence Catholic Church in Scribner. The Rev. Damien Wee is officiating. Visitation is 3-7 p.m. Friday with family present from 6-7pm, and a wake service at 7 p.m., all at St. Lawrence Catholic Church.
Parents: Gavan and Leslie Steffan Link, Classes of 1975, 2002
Grandparents; Jim and Cindy Holliday Steffan, Classes of 1975, 1978
Grandparents; Howard and Jeanine Wood Link, Classes of 1968, 1972
Ronald Starr, Class of 1971

Until we meet again, may God hold you in the palm of his hand . . .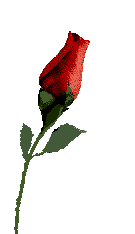 Since the 2017 newsletter has gone out . . .
CHS ALUMNI
Class of 1939
Rex R. Burden
Class of 1940
Donald Sharpe
Class of 1944
Richard Morse
Class of 1946
Kenny Link
Donna Leah (Drury) Young
Class of 1947
Earl "Bill" Cooper
Class of 1950
Donna Clites Kelso
Class of 1952
Norma McPherson Chambers
Richard Walker
Beverly Hager Robinson
Class of 1955
Richard Smith
Class of 1956
G. Doug McConnell
Class of 1957
Betty Casey Collins
Gerald "Jerry" Linke
Class of 1961
Jerry Miller
Class of 1968
Dennis Messick
Class of 1970
Janet Melcher Branscom
Class of 1980
Carolyn Peterson Piper
Class of 1984
Tammy Clark Linke
CHS FACULTY AND SCHOOL EMPLOYEES
Memorials Received Since The 2017 Newsletter:


Please remember our deceased friends and classmates with a memorial gift to our alumni association. We send a nice card to the family acknowledging your gift. These gifts help your association with on-going expenses of office supplies, postage, etc. Any amount is appreciated. We do not have dues and through these gifts we are able to cover operating expenses and contribute to projects at the school. Your help is truly appreciated. Make your check payable to CHS Alumni Association and send to: CHSAA, P.O. Box 72, Chase KS 67524. Also please specify on your check that this is for the In Memory Fund. Thank you again!